Diesel Locomotives
Original - Blue/gray/black scheme with three digit numbers and no "Baltimore and Ohio" on boosters. Athearn Genesis F7:
1957 - Units renumbered to four digits, "Baltimore and Ohio" added to boosers, road number centered on cab side, top gold stripe on black band moved down to below the batten strip. Intermountain F7:
1958 - The gray was replaced with blue.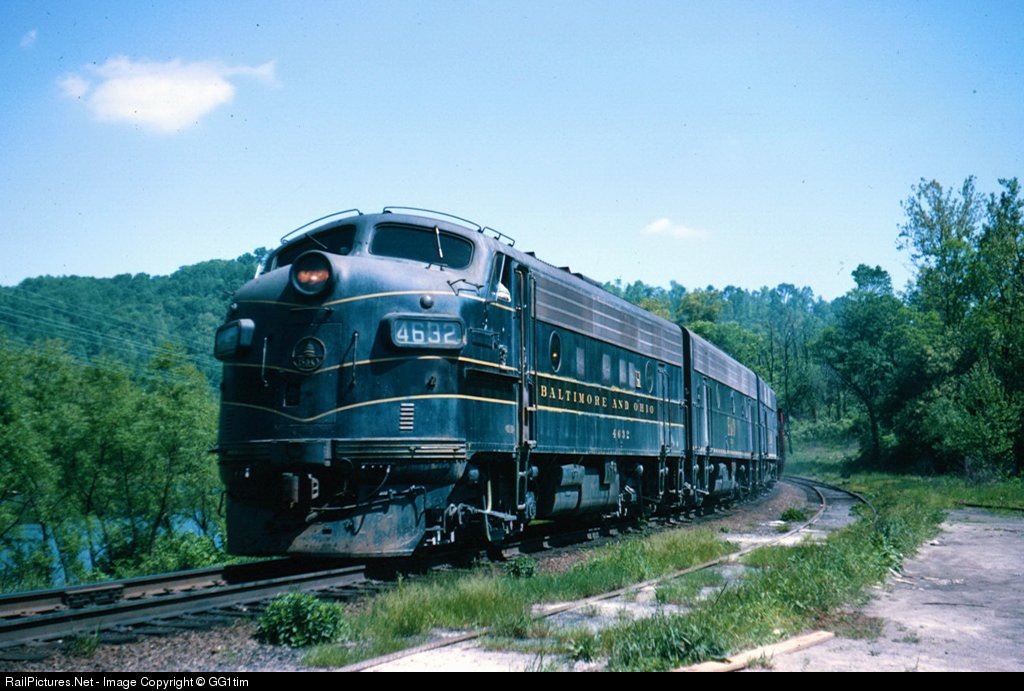 Late 1962 - "Sunburst" scheme. Lettering color changed from Dulux Imitation Gold to Federal Signal Yellow. Sunburst pattern on nose, dashed frame stripe.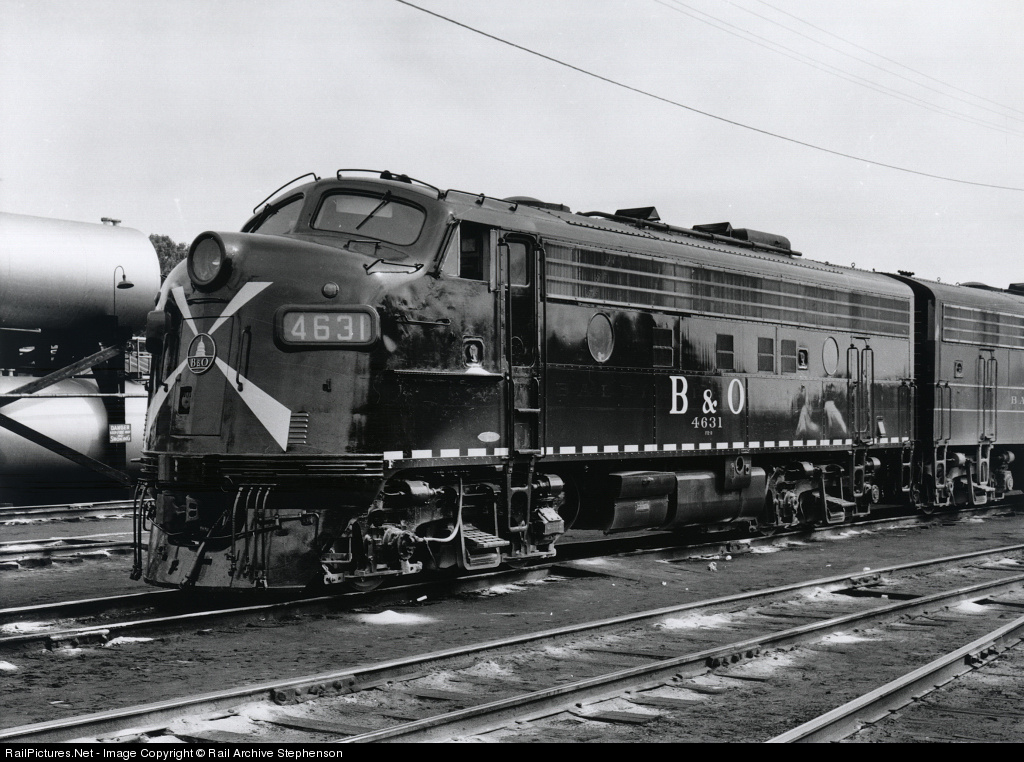 August 1964 - Solid blue scheme with a solid yellow frame stripe. So painted until 1972. Intermountain F7:
No B&O cab unit was painted Chessie (1972-1987).
Freight
Original - Brown.
1937-1940 - Early Kuhler scheme, brown. Fox Valley Models M-53 wagon top box car:
??? - Billboard 13 Great States, brown.
1946-1955 - Billboard 13 Great States, red. Fox Valley Models M-53 wagon top box car:
1955-1962 - Billboard 13 Great States. Fox Valley Models M-53 wagon top box car:
1962-1966 - Capitol Dome Billboard, red. Fox Valley Models M-53 wagon top box car:
Late Billboard - Red. Fox Valley Models M-53 wagon top box car:
Cabeese
1941-1945 - Simple Kuhler Herald. Spring Mills Depot I12 Caboose:
1945-1955 - Yellow lettering, 36" Linking 13 Great States Herald. Spring Mills Depot I12 Caboose:
1945-1955 - White lettering, 36" Linking 13 Great States Herald. Spring Mills Depot I12 Caboose:
1945-1955 - White lettering, 25" Linking 13 Great States Herald. Spring Mills Depot I12 Caboose:
1955 - Linking 13 Great States Herald - 7" side numbers. Spring Mills Depot I12 Caboose:
1955-1962 - Linking 13 Great States Herald - 9" side numbers. Spring Mills Depot I12 Caboose:
1963-1964 - Capitol Dome Herald - 9" side numbers. Spring Mills Depot I12 Caboose:
1965-1969 - Pool Service - B&O above bay window, yellow ends. Spring Mills Depot I12 Caboose:
1965-1969 - Pool Service - No B&O above bay window, yellow ends. Spring Mills Depot I12 Caboose:
1970-1971 - Pool Service - Yellow 36" simple Kuhler herald, yellow stripe, and blue ends. Spring Mills Depot I12 Caboose:
1973-1983+. Spring Mills Depot I12 Caboose: